Sourcing Inventory for eBay Store – Top 15 Places to Get Stuff to Sell
Now that you have decided to make money by selling items on eBay, you need to source inventory to have products to sell. Sourcing inventory is a process by which you find sources where you can find goods to sell in popular fast-selling categories. It is important to find a fast-selling product and a good source to purchase at lower prices compared to the price you will be selling them at.
Discovering and networking with suitable suppliers is key to building an eBay store where you can sell items quickly and consistently. In simpler terms, you have to find sources that can sell you good products at good prices to build a revenue-flowing business.
This blog is to help you find innovative and out-of-the-box places to source inventory to sell at your eBay store.
Choosing Products to Sell on eBay
The first thing you need to check off your to-do list is to understand what categories of products are fast-selling and profitable to sell on eBay. Doing basic research on this will give you ideas on what products you can sell. Here is a list of product categories that saw profitable sales in 2020 and 2021 on eBay stores:
Baby Products & Pet Supplies
Business & Industrial products
Mobile Phone & Accessories
Video games & Consoles
Consumer Electronics
Sporting Goods
Health & Beauty
Home & Garden
Computers & Tablets
Fashion, Clothing, Shoes & Accessories
Once you get an idea about what category of products sell fast, proceed to check the demand, availability, seasonality, competition, profit margins, shipping costs, and regulations concerning the products you have chosen. This way, you will find yourself deciding on the product you want to source to sell on your eBay store.

Places to Get Stuff to Sell on eBay
1. Arbitrage
The easiest way of reselling goods on eBay is Arbitrage. This can be classified into Retail and Online Arbitrage. A study by Jungle Scout observed that around 33% of arbitrage sellers started with less than $500. It does not involve big investments or higher risks. And thus, is ideal if you are new to the world of eCommerce selling.
Retail Arbitrage is the process of buying bulk goods from retail stores at discounted prices and reselling them on eBay for profits. Retail Arbitrage aims at making profits out of the difference in prices of goods between two or more markets.
Online Arbitrage is the same as Retail Arbitrage. The only difference is that goods are procured from online stores at discounted prices and sold on eBay at higher prices. The difference in prices between the two markets will help you fetch competitive profits.
2. Dropshipping
If you lack space for storing inventory, Dropshipping is your go-to choice. Dropshipping is the process of buying products from a retailer or wholesaler after you've received an order on eBay and having the items sent directly to your customer. You can keep your startup and operating costs low by sourcing inventory through dropshipping.
An advantage of dropshipping is that you don't have to pay for products until you sell them. You pay the supplier a discounted rate after you have received an order from a customer and your supplier has delivered the product to them using a third-party shipping company. However, you won't get the full profits on sale and will still be responsible for customer service and returns. It is important to pick a trustworthy and efficient seller to avoid customer dissatisfaction and bad reviews.
3. White Label and Private Label
White labeling is the process of purchasing generic products such as deodorants, from manufacturers and labeling them with your brand, and selling them as your product. Many brands use white-labeled products from popular and reliable manufacturers. You can sell white-labeled products at lower prices but under your brand name.
On the other hand, you can also sell products on eBay by private labeling. In private labeling, you work in collaboration with a manufacturer and create your version of a generic product that is unique to your brand. The difference is that you have a say in the designing or manufacturing, product quality, labeling, and packaging of the product.
White and Private labeling can prove to be profitable ways of sourcing products with little research, persistence, networking, and patience.
4. Wholesale Units
Buying wholesale is a way of inventory sourcing that has low barriers to entry and can be easily scaled up. Find a manufacturer/brand owner from whom you can buy large volumes of products. You can list and sell the same for prices higher than what you purchased and make easy profits. Wholesale is an advantageous source of inventory because these items are in demand or have higher sales ranks.
With continued sourcing and positive business relationships with your manufacturer or brand owner, you will be able to negotiate better terms and deals while purchasing inventory. Remember to go through the necessary approval channels to avoid getting flagged for copyright infringement and account suspension.
5. Retail Store Clearance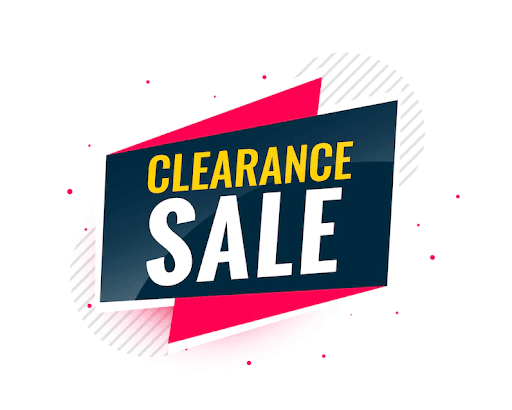 To balance inventory, prices, and promotions, retail businesses throw clearance sales. It is a promotional strategy to attract price-conscious consumers and an effective inventory management tool. They can be on a seasonal basis or scheduled as needed.
Retail store clearances can be a great source of inventory for eCommerce sellers. If you are a seller on eBay located at a location that has scarce inventory sourcing options, make sure to keep track of clearance sales posted by your local stores. You can get hold of quality goods in large volumes at cheap prices. Reselling them on eBay will fetch you good profits.
6. Consignment Auctions
Consignment auctions are a great way of selling on eBay. In this method of sourcing inventory, you can get products consigned or delivered to you. You will be agreeing to pay your suppliers or sellers after the products have been sold. You can source inventory through consignment auctions and sell them as an authorized third party.
The advantage of this source is that you will be able to sell goods of consignments containing products from a large variety of suppliers and will not have to pay for them out of your pocket. In exchange for selling the goods, you will be taking a cut of the revenue.
7. Facebook Marketplace
Facebook is an online marketplace where you can find a lot of deals on wholesale products. Facebook marketplaces consist of local buy and sell groups that are ideal to source inventory for your eBay store. You can search your neighborhood and local areas for buy and sell trade or garage sales. Look for items that you know about or are interested in reselling on your eBay store.
You can negotiate with sellers on the Facebook marketplace. The more often you source inventory from sellers on the Facebook marketplace, you will be building better relationships with them and can get better deals and offers.
8. Online Supplier Directories
Print publications such as yellow pages and directories have become out of date. As an advancement, information about buyers and sellers is being published in online supplier directories these days. Online supplier directories host business listings and are a great way of advertising and promoting businesses.
You can connect with suppliers through online supplier directories for making purchases for your eBay store. These directories verify the suppliers and hence you can rely on the information provided.
Some popular online supplier directories include:
India Mart,
Just Dial,
Ask Me,
Yellow Pages,
Bizz Duniya,
IndiaBizList,
Trip Advisor,
Yellow Bot,
White Pages India,
Ali Baba,
SaleHoo,
eWorld Trade.
9. Trade Shows

Trade shows are a great place to connect with suppliers and distributors of new and seasoned businesses. They are effectively designed in a way that benefits businesses. You can meet manufacturers, wholesalers, distributors, and other suppliers. You get the opportunity to see and test the products that you are interested in selling on eBay.
Trade shows are a hotspot for novel products and are ideal for you to meet manufacturers with whom you can discuss creating private label products in person. Though you might have to incur travel and attendance costs, you will be able to fasten the pace of your deal negotiations.
10. Handicrafts and DIY Products
The global handicrafts and Do-It-Yourself market were valued at an estimate of $647 billion in the year 2020. The global handicrafts market comprises solo artisans, jewelry makers, weavers, carpenters, and so on.
If you are someone who makes your products for sale, you do not have to look elsewhere to source your inventory. Another innovative inventory to sell on your eBay store is DIY kits and supplies. Customers enjoy making crafts of their own using kits sold in the market.
Selling DIY products means that you can have complete control over your product design, quality, and inventory. Handicrafts and DIY products are in a class by themselves and there is a growing market for unique collections amidst the mass-production economy.
11. Thrift Stores
Thrift stores sell pre-owned and upcycled or thrifted clothes, accessories, and other goods. These stores sell gently used products at reduced prices. It is a great way to purchase sustainable goods to resell on eBay. Instagram witnessed an influx of thrift stores in 2020.
If you want to source your inventory from thrift stores, research the internet and social media for them. Be specific about your keywords if you have a particular item of interest that you'd like to source for your eBay store. Make sure to source thrifted products from authentic stores. This will help ensure that you receive goods in a good condition that you can resell for a decent profit margin.
12. Online Marketplaces

There are over 26 million eCommerce sites across the entire globe. This means there are as many online marketplaces from which you can source your inventory. A few popular online marketplaces include Amazon, Etsy, Flipkart, SnapDeal, Shopclues, Alibaba, etc. You can even source inventory from auction sales on eBay.
Keep track of markdowns, deals, clearance sales, seasonal sales, etc. on different marketplaces. You can purchase items in bulk for considerably lower prices on online marketplaces. They are ideal for procuring small quantities of diverse inventory as there is usually no minimum order quantity. You can also find unique items in online stores.
13. Local Marketplaces
Local marketplaces are where you can find unique and innovative hand-made products at very reasonable prices. They are a great way to source inventory in the long run. As you build better relationships with your local sellers, they will let you know about unique products, deals, clearance sales, offers, and such. You can become their go-to reseller when they need to sell extra inventory.
The most advantageous factor of sourcing from local marketplaces is the access to their inventory that others usually do not have. Bundle deals and future invitations are other reasons you should consider sourcing from local markets.
14. Friends & Family
You can ask your friends and family if they have products that they'd be willing to donate or consign to you to sell on eBay. Make sure to discuss all terms such as consignment fee, profit-sharing, etc., in detail to avoid problems. You may find free inventory that you don't have to spend much time to source.
15. Your Own Collection
Your home is the first and best place to source inventory if you are just starting an eBay store or have low investments to proceed with other options. You are likely to find unopened or barely used gift items, cosmetics, kitchen appliances or parts, clothing, toys, video games, etc. Selling them on eBay is not only a great way to declutter your home but also make money in the process.
Conclusion
Finding suitable products to sell and apt places to source inventory in a way that will fetch you a decent profit and flowing revenue is a work in progress. Keep researching innovative ways to procure inventory.
Stay on alert for deals, offers, clearance sales, and such. With persistent effort and patience, you will establish an eBay store that will bring in more sales and increase profits.